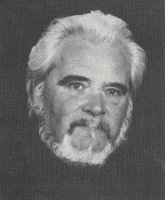 Andrew W. "Andy" Nixon
Local Artist
Age 87 from Gloucester Estates
Coldwater went to be with his Lord
March 9, 2019 at 11 a.m.
He leaves his beloved wife Joan of 43 years
and loving daughters: Debbie (Earl), Lynn
and Kristine (Andre) and their children –
8 grandchildren & 6 greatgrandchildren
As well as brother Don (Carolyn) and
several nieces and nephews.
Predeceased by siblings: Jean,
Eileen & Ken
Born in Toronto, Andy was chosen
from the Toronto schools to study
under Arthur Lismer ( member of the
Group of Seven ) for 4 years at OCA.
Andy worked in commercial art for 20 years,
Walt Disney being one of his employers.
Another 20 years was spent teaching art
in high schools – Eastview in Barrie
and Twin Lakes in Orillia. He also taught
for a semester at Macquarie University
in Sydney Australia.
Andy's artwork is varied in colours,
styles and media. He enjoyed exhibiting
his work in many places including
Canada and abroad.
His photography shows his love of nature.
Andy travelled extensively, the longest trip
being 9 months around the world with
Joan in 1985/86.
After retirement the Nixon couple wintered
in Florida for 24 years.
Hobbies: fishing, boating, birdwatching,
stamp collecting, chess, scrabble, and crossword puzzles
were some of the things Andy truly loved
to do.
Very Special: Omega & Algonquin Parks
Following cremation a
CELEBRATION OF LIFE SERVICE
will be held at the Severn Falls Chapel,
Severn Falls, Ontario
May 18th at 2:30 p.m.
As an expression of sympathy, donations
in memory of Andy may be made to
Parkinson Canada
and may be made through
the funeral home