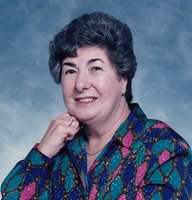 Joan Gorse
Joan was born in Coventry England and met the love of her life, Donald, at the Binley army dances and were soon married. Don and Joan are just four months away from celebrating their 70th wedding anniversary. They made the brave venture to immigrate to Canada in 1956 first settling in Orillia, then living in Shawville Quebec, moving to Midland, and finally settling in Victoria Harbour.

Joan was always a giving and kind person, going out of her way to help others often. Joan loved life - She was a great cook, loved to dance and had a laugh that when she started you couldn't help but join in. Joan was a wonderful Mother to Betty Dunlop (late Terry) and Carol Graham (Jeffrey) and Nanny to Chantelle, Shawn, Magda, Eirik, Kyle, Brandon, and Jenna and great Nanny to 9 soon to be 10 lovely great grandchildren. Joan is fondly remembered by her remaining sister Maisie Mosey in Coventry and brother in law David Gorse, predeceased by her five brothers and two sisters, and many nieces and nephews in Coventry, Birmingham and beyond.

Many, many thanks go out to the loving and kind care that Joan has received from everyone at Hillcrest Village Care Centre, Midland. Joan passed away peacefully in her 92nd year, surrounded by family at her home at Hillcrest Village.

As an expression of sympathy donations in memory of Joan may be made to Hospice Huronia and may be made through the funeral home.

A private family service will be held.