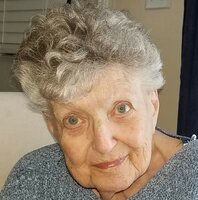 Marylou Decaire (Burke)
(April 23, 1930 – December 25, 2022)
Passed away peacefully at the Georgian Bay General Hospital, Midland, with her family by her side. She is no longer in pain, and has gone to join her husband Jack, sons Bill & John, and sister Helen. She was preceded in death by Jack, sons Bill & John, sister Helen, as well as Jack's brother Bill. She is survived by her son Tom and his wife Sharon, by her grandchildren Tammy, Christine, Billy and Stephanie, by her great grandchildren Sabrina, Cassandra, Mikayla, Nathan, Breanna, and Mackenzie. She is also survived by her nephews Eddie and Michael, as well as Joan Burke and her family: Wilma, Linda, Harold, Patty, Carole, Anna, and Suzy Burke. Also survived by Kim, Kory, Tracy, and Lori Ann Brown, and by her best friend Terry and family.
A very special thanks to Dr. Rafikov and the nurses at the Georgian Bay General Hospital for taking such care of Mom and seeing that she didn't suffer.
Cremation has taken place, and as per Marylou's wishes no memorial service is planned.
In lieu of flowers, donations to Georgian Bay General Hospital would be appreciated and may be made through the funeral home.