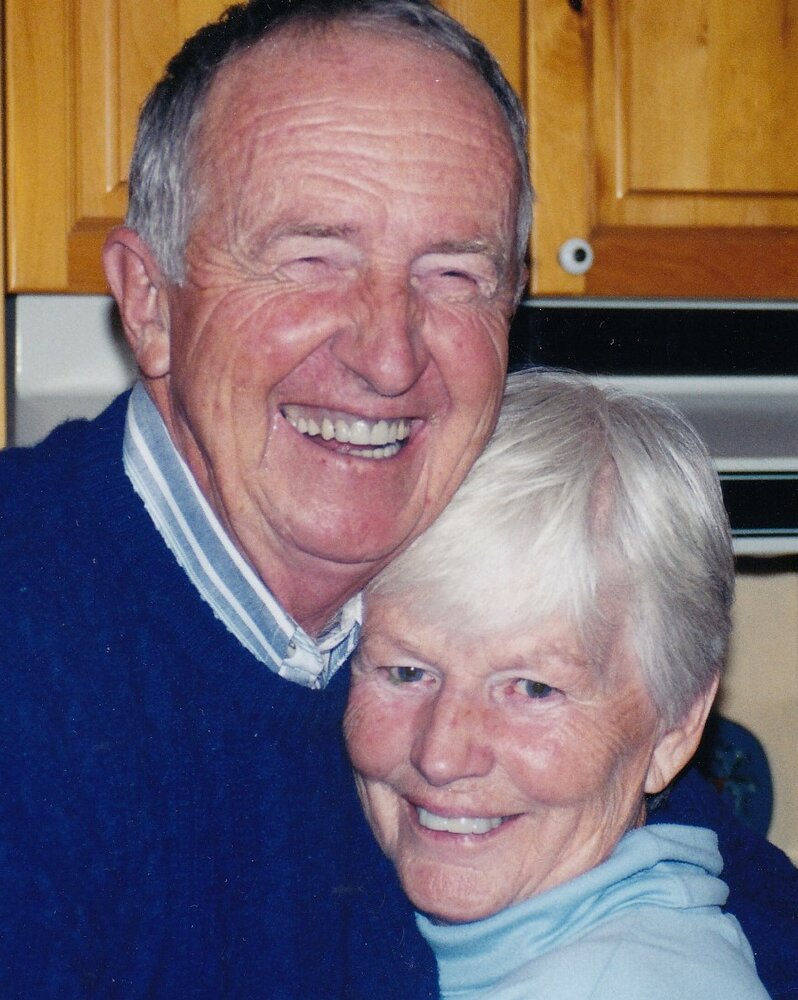 Obituary of J. Patrick Sullivan
Please share a memory of J. to include in a keepsake book for family and friends.
We lost a good man in the early hours of August 27, 2021 at the Royal Victoria Hospital in Barrie. Pat probably couldn't have drawn it up any better. He was home and working in his garden on Tuesday. On Wednesday he became unwell and went to the hospital. On Thursday he rallied to have a happy visit with his bride Bernadette. Later that evening he took a turn. He passed peacefully with Bernadette and his son (and probably closest friend) Kevin at his side.
Pat is predeceased by his father (Edward) and his mother (Gladys) and (to his great sadness) our beautiful sister, Theresa. Dad leaves behind the greatest joy of his life – his family: his wife of nearly 63 years Mary Bernadette (nee Kingston) and the whole sprawling Kingston clan; his children Michael (Pattie and now Lesley), Theresa's husband Hugo, Mary (Peter) and Kevin; his grand children Kelly (Russell), Matthew, Rebecca, Ryan, Sam and Annie; and two great grand children he had yet to meet in person, Hazel and June. Pat will be remembered by most people as a kind gentle man. He was not often in the spotlight. His grandchildren loved the quiet warmth of just being around him. He knew every detail of their lives.
Pat grew up in Port Credit and loved attending St. Michael's College School. Most of his working life was in sales, where his gift for the gab was an asset. He could, literally, talk to anyone. His big break came at a dance in 1956 where he met Bernadette, who was just finishing her Nursing studies at St. Joseph's Hospital in Toronto. He was smart enough to realize that this was his ticket to the greatest life he could possibly have. They were married on September 8, 1958. Dad was an only child. Suddenly he was part of a large family. They embraced him, and he loved it all.
It is hard to tell Pat's story without talking about Bernadette, their stories are so entwined. As she says "We had our challenges (everybody does) but we loved each other – and we were happy." Pat and Bernie began their married life in Port Credit. The Church was an important part of their world. People from the neighbourhood and some of Dad's boyhood friends (the McNeices, the Kinsellas, the Rudans, the Pellegrinis and the Grevens) were part of that circle and became lifelong friends. In 1967, with four young children in tow, they moved north to Mount St. Louis to live with our grandfather after our grandmother passed away. It was a very big change. "The Mount" became the centre of our families' universe for the next half century. Pat worked at several local businesses: Firestone in Orillia, Dunlop's of Moonstone, and Barber and Haskill in Midland. And always there was family. Summers on Lake Simcoe with our cousins the Bybergs. An annual summer road trip in the family station wagon to New Brunswick, and more aunts, uncles and cousins. Mom and Dad continued to be active in the Church and were deeply involved in their community.
Dad was no fan of the winter. Its only redeeming quality was that it brought with it the hockey (albeit with another disappointing Leafs season). Gradually, as the house got quieter and kids moved away, he was able to indulge in one of his greatest passions – planning a winter holiday. While they were working, it was a few weeks and as they moved into retirement, they were able to spend longer periods of time "down south" – mostly in Florida.
Retirement may have been their best season. It certainly was for Dad. Each year the Mount became more beautiful. Grandchildren (and dogs) came and stayed and accompanied Poppa in his garden. There was a ready supply of clandestine chips to consume after Bernie went to bed. They had time to connect even more with their community. And always there was family, now a really elastic concept that included friends and friends of friends and priests and boyfriends and girlfriends of grandchildren and on and on. And Dad, with an ear-to-ear smile, chatting with anyone and everyone. The pace of retirement suited Pat, who could never be accused of rushing things. There was more than an occasional "Alright, Alright" as his wife chided him to get on with things around the house or at a dinner party. His garden was located close to the road and his lasting legacy to the community was that he waved to everybody who went by.
"I want to live in a house by the side of the road
And be a friend to man"
It is a great gift to reach the end of your life at peace, happy. We and so many others are really sad to have to say goodbye. For Pat this is a step to another place of happiness. We miss you and we love you.
A graveside service will be held on Saturday September 11th at 12noon at St. Louis Cemetery followed by a celebration to honour Pat's life at the Sullivan home.
As an expression of sympathy and in lieu of flowers donations may be made to Ovarian Cancer Canada and may be made through the funeral home.



Our Location:

22 Sturgeon Bay Road,
P.O. Box 190
Coldwater, ON L0K 1E0

Funeral Establishment Operator - Class 1
License #FE-103
Our Associations:

Proudly Serving:

Proudly Serving the Communities of Port Severn, Matchedash, Coldwater, Waubaushene, Fesserton, Moonstone, Vasey, Severn Falls, Honey Harbour, Oro-Medonte, Victoria Harbour, and Barrie.